Our all-encompassing installation and transport logistics - which are not tied to specific track systems - enable us to offer the shortest possible installation cycles at the highest quality even under the most difficult conditions. This can only be achieved using equipment developed jointly with and on construction sites: track straightening, surveying systems and concrete finishing machines.
What we can do for you:
Not every road system is suitable for every project. This is why the Rhomberg Sersa Rail Group offers support with system decisions as an optional service in addition to classic installation. Our competences:
Support of transport operators and planners with regard to system decisions
Design
Development and sales of system-independent track alignment systems for slab track
Project-specific material and installation logistics for slab track
Installation of sleeper, panel and direct fastening systems
Development and distribution of the "IVES" system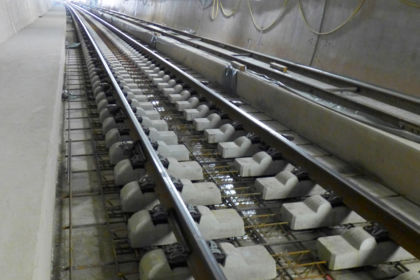 Innovation
Challenges require innovative solutions. We find them!
Be it the conversion of ballast track into slab track with just very short operating breaks or the handling of the most difficult logistics conditions.
Feingerichteter Gleisrost freigegeben zur Betonage (Projekt SBB Hochfluhtunnel, Axenstrecke)