Systematic track maintenance meter-gauge
Clients:

Rhätische Bahn, Matterhorn Gotthard Bahn, Montreux Berner Oberland Bahn AG,
Appenzeller Bahnen AG, Regionalverkehr Bern-Solothurn, Aare Seeland Mobil,
Transports de la Région Morges Bière Cossonay SA, BLT Baselland Transport AG,
Forchbahn AG, Aargau Verkehr AG und weitere Meterspurbahnen

Location:

Switzerland

Construction period:

1967 - present

Executing companies:

Sersa Maschineller Gleisbau AG
System Description
Sersa Maschinenller Gleisbau AG ensures smooth train traffic on metre gauge railway tracks by maintaining them with state-of-the-art machinery and innovative measuring technology.
For systematic maintenance work, a ballast is drawn in from the ballast flanks with ballast graders or an unloaded ballast is distributed. Levelling and tamping machines are used to correct the track in terms of direction, height and over-height. For quality control, recording runs as well as re-measurements are carried out using the Mephisto with the track measuring device.
Finally, the track is cleared of the ballast again using ballast levelling machines. The ballast flanks are laid correctly and the sleeper compartments are compacted. The track maintenance machines are operated by specially trained and experienced teams of machine operators.
Features
The machines can be used in very tight radii, on steep gradients as well as in rack and pinion tracks. Various coupling systems are available. The tamping machines are equipped with the absolute measuring system PALAS for high accuracy without limiting the performance. For the machining of large turnouts, a third strand lifting system is available. 2 ballast grading machines are equipped with a silo for the lifting and moving of ballast.
Machine Fleet
6 Universal Levelling Straightening Tamping Machines
5 Ballast Profiling Machines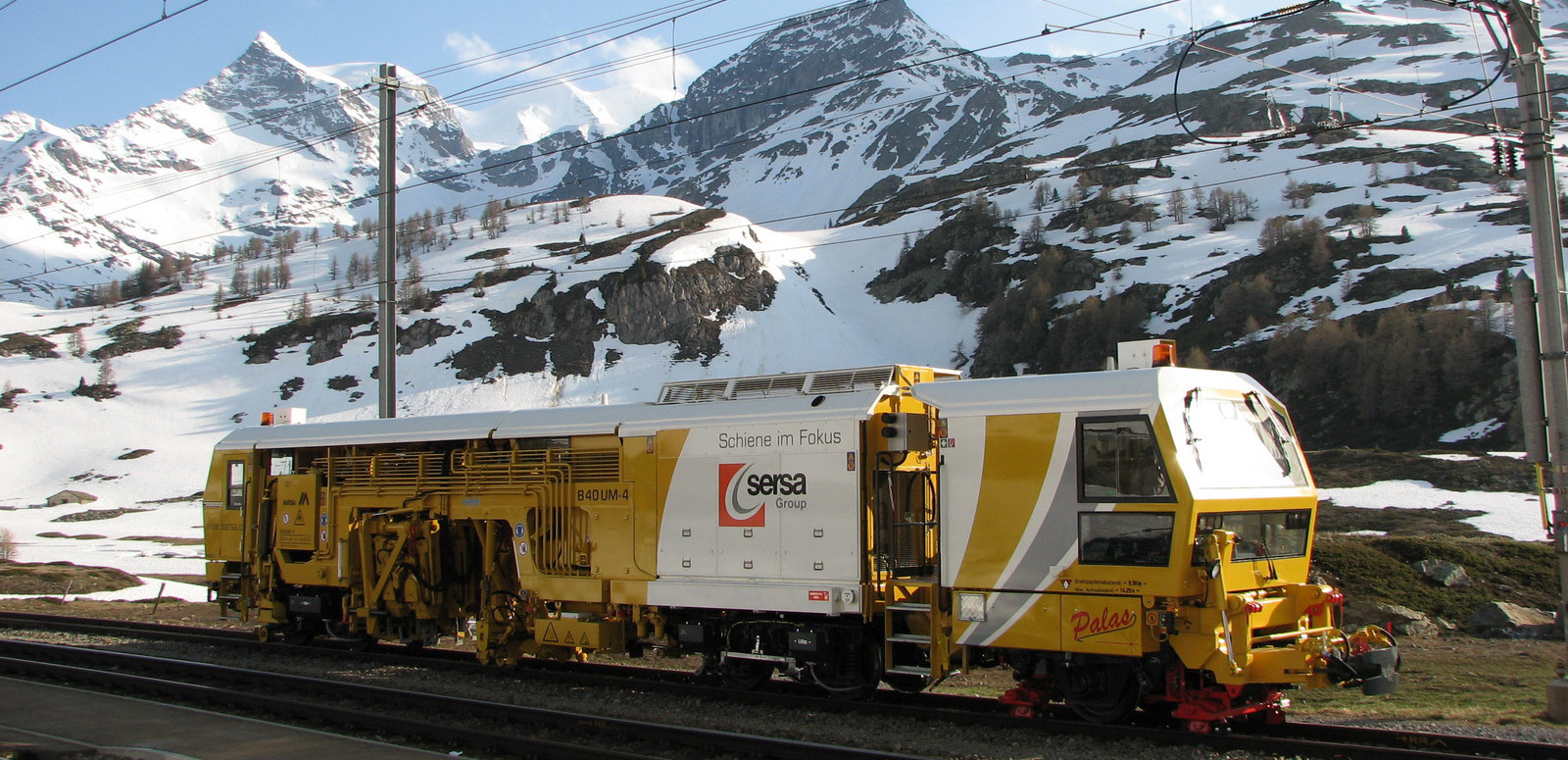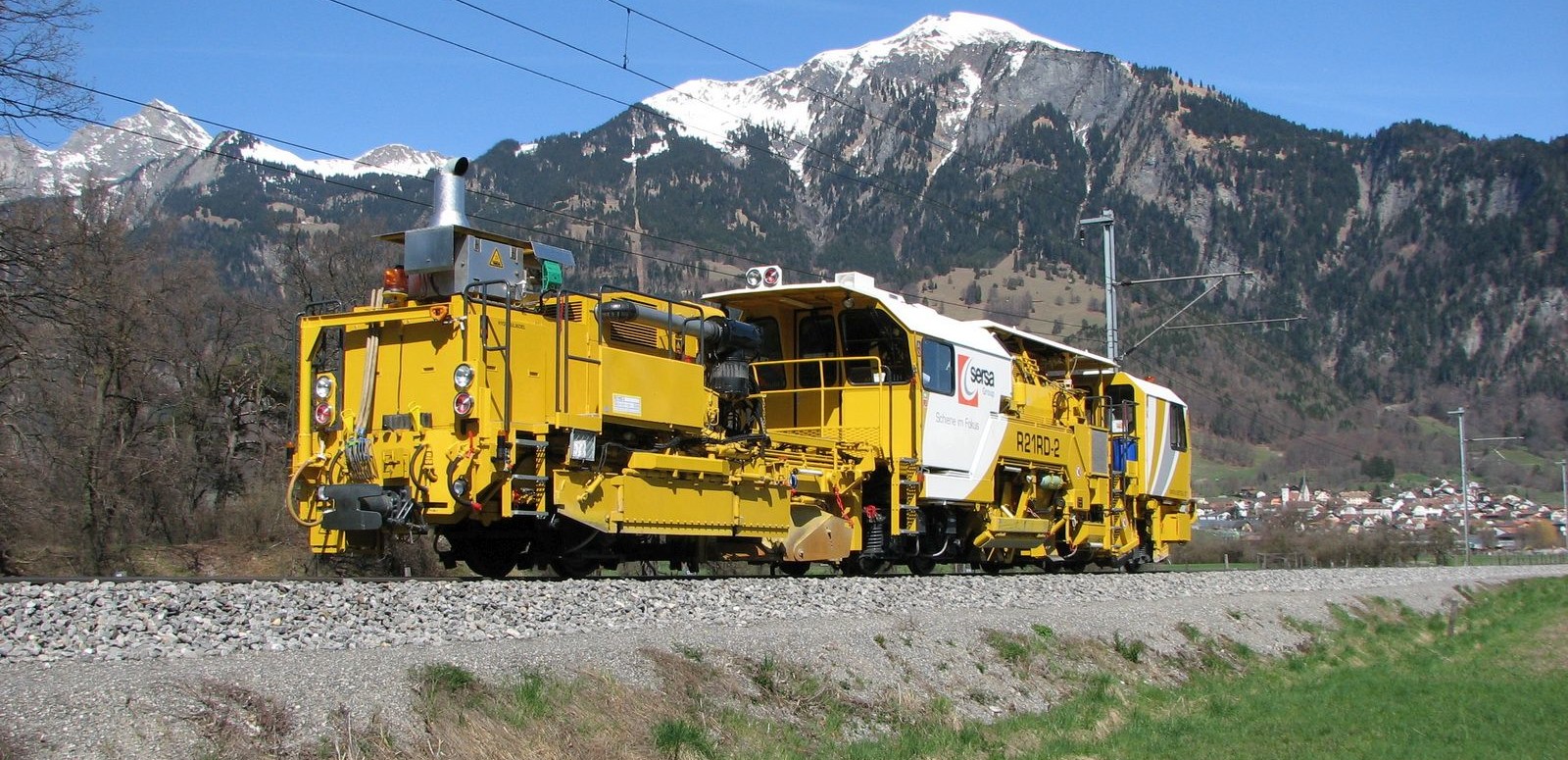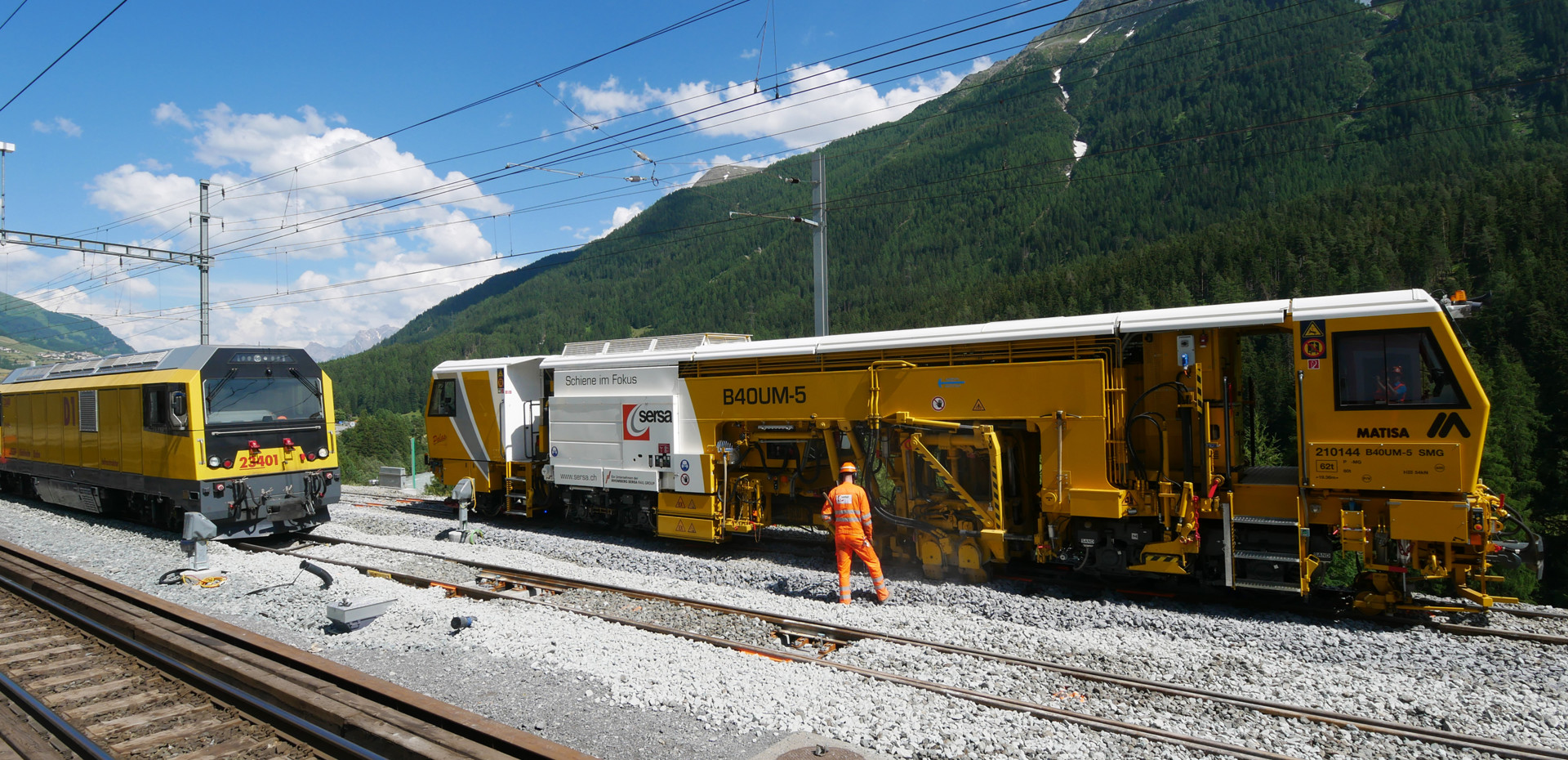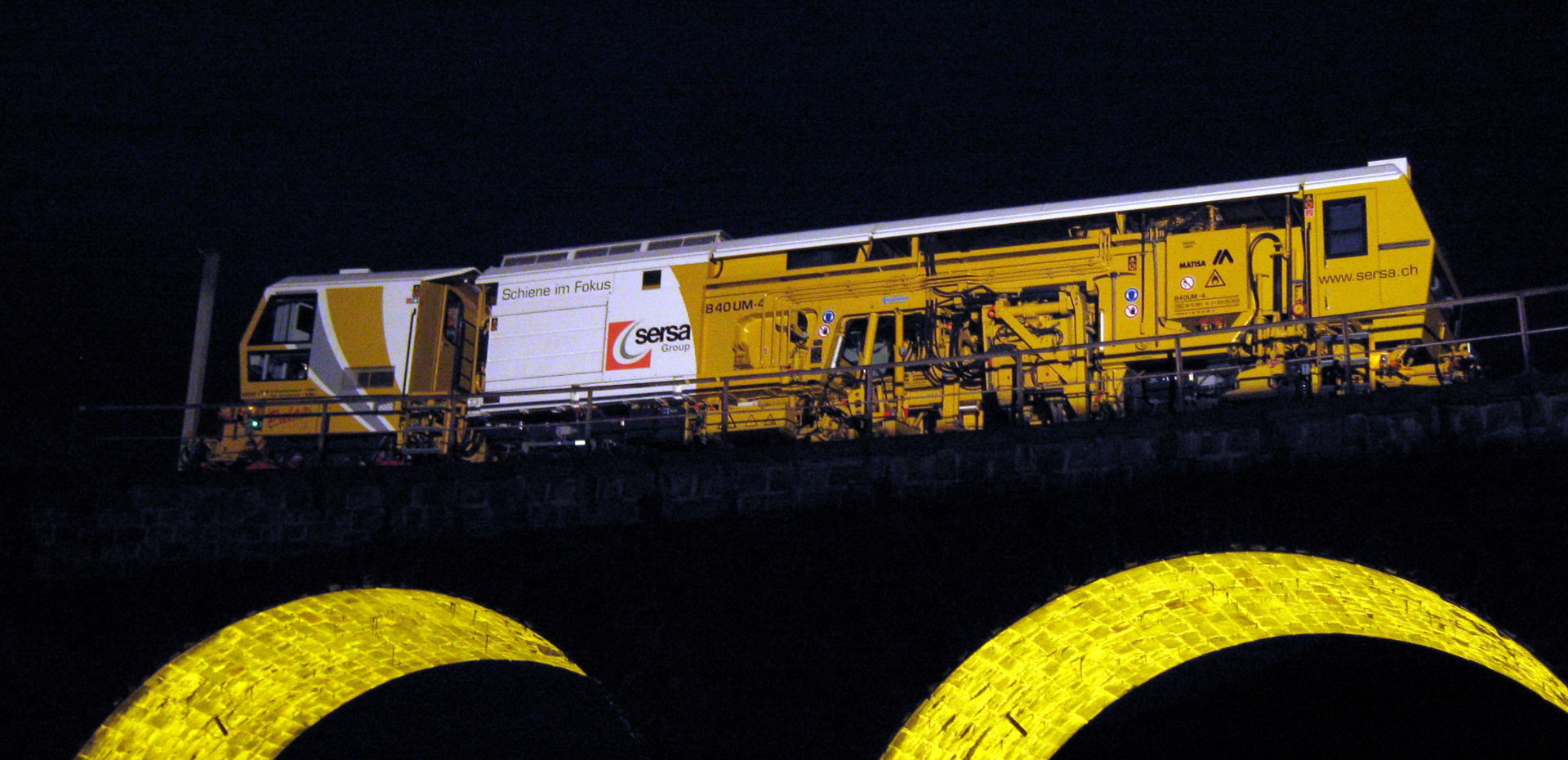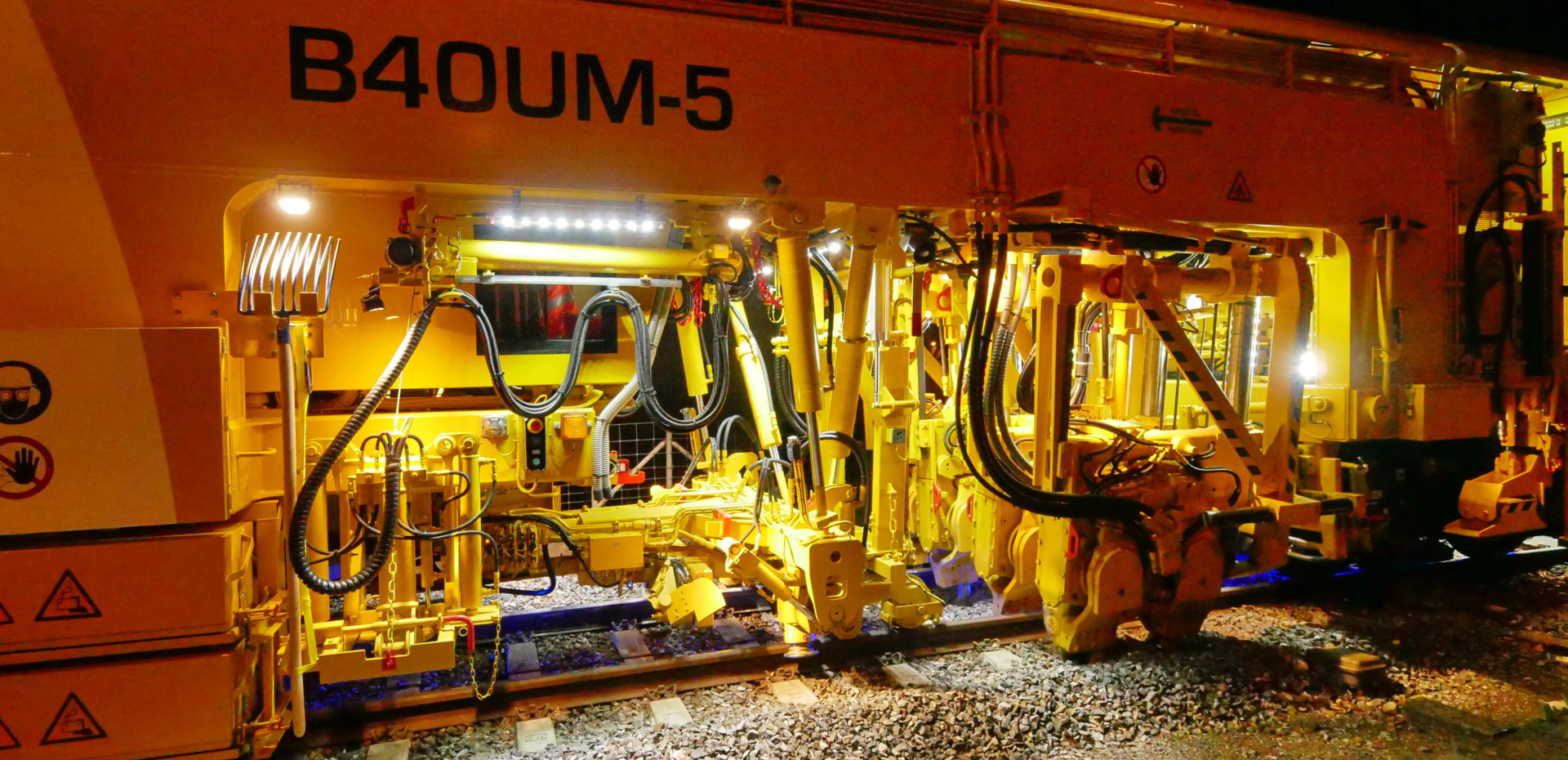 Universal Levelling Straightening Tamping Machine B40UM-4
Ballast Profiling Machine R21RD-2
Universal Levelling Straightening Tamping Machine B40UM-4
Universal Levelling Straightening Tamping Machine B40UM-4
Universal Levelling Straightening Tamping Machine B40UM-4
Video
Universal Levelling Straightening Tamping Machine B40UM-5