My path within the Rhomberg Bahntechnik
I have been working for Rhomberg Bahntechnik for 12 years. At that time, I started out as a site manager and then worked as a project manager. Until the end of 2013 I managed the railway technology site in Essen as branch manager. This is a development of which I am very proud. In 2011 I was involved in founding the Rhomberg Bahntechnik GmbH in Oberhausen. This is an independent business within the Rhomberg Sersa Rail Group, which has been based in Essen since 2013 and specialises in electrical engineering in the railway sector. I started there as branch manager with a team of 3 employees. By now, we have about 60 employees - most of whom I hired myself.
Why I am right here
I feel that I am in the right place as a manager at Rhomberg Bahntechnik, because as an all-rounder I appreciate the diversity of my duties and have the skill of keeping an eye on the "big picture". I appreciate the fact that my position gives me the freedom to develop and shape things myself, and that I can express my opinion on a wide range of topics straight to the company management, even if it is sometimes a little critical. This is an important factor for me as a free spirit in order to feel comfortable in my working environment. This dialogue at eye level between employees and management is characteristic of the business. I feel that my needs are met with an open ear and that there is always a basis for discussion for personal concerns. This is a value that I also live by with my colleagues and is also the reason for the good atmosphere in our team.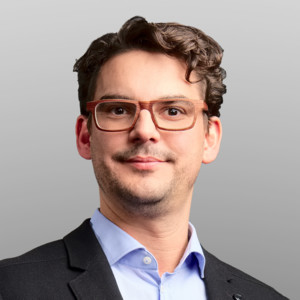 "I appreciate the fact that my position gives me the freedom to develop and shape things myself."
I work autonomously
The flat hierarchies in the business mean that a great deal of attention is paid to personal responsibility. All of us employees can design our working environment flexibly and variably: Flexi-time arrangements or the possibility of working from home are what distinguishes Rhomberg Bahntechnik in the rather conservative railway industry. Our company is also progressive in its openness towards digitalisation: our working tools are state-of-the-art and our MyNet collaboration platform simplifies the handling of projects immensely.
I enjoy many employee benefits
What else contributes to a positive atmosphere in the company? In Essen we occasionally use a shared breakfast for an informal exchange of information. Regional fruit and drinks are also available to us employees throughout the working week. Company outings or celebrations do the rest. A subsidy for personal pension provision is also a service that I like to take advantage of as an employee.
Why are you a "future-track-setter"?
"I see myself as a future-track-setter, as I don't want to linger in the present with my actions, but try to stay alert so as to take advantage of new trends and developments for myself and for the business. The resulting changes can be radical. In Essen, for example, the tasks in the early days of the business were blatantly different from today's requirements."