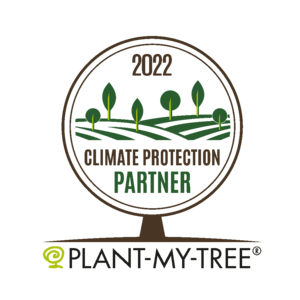 Thinking and acting sustainably as part of our corporate responsibility is a matter of course for us. Now we're taking things a step further and would like you to join us on this journey.
How does it work? Simply subscribe to our newsletter! For every new subscription we – and that means you, too – will plant a tree and thereby lend our support to the sustainable reforestation of wooded land. Get involved on the ground and join us in protecting the environment and climate – you in?
Our partner in this campaign is PLANT-MY-TREE®. Through its work in the reforestation of natural mixed woodland with high biodiversity, the organisation is making an important contribution to climate protection. The trees are mainly planted on the organisation's own land; the planned project duration is 99 years. Logging activities or economic utilisation will not take place during this period.
PLANT-MY-TREE® has already planted 400,000 trees. Climate protection starts here, right on our own doorstep.
For more information about PLANT-MY-TREE®, its goals and its projects, please visit the organisation's website at www.plant-my-tree.de
*)The promotion period lasts from 01.01.2022 to 31.12.2022. In the spirit of sustainability, we will plant a tree for the first 1000 new newsletter subscribers who have subscribed to our newsletter for at least three months. The promotion is only valid once for each subscriber and not available to Rhomberg Sersa Rail Group employees.